Flash Sale Countdown in WooCommerce
Let shoppers know for how long a discount is available by adding a Flash Sale Countdown to your WooCommerce store to create a sense of urgency to make a purchase quickly.
Explore some of the advantages
of a flash sale
There are numerous advantages to running a flash sale on a WooCommerce website, as it can help you overcome a lot of challenges as well as offer many benefits.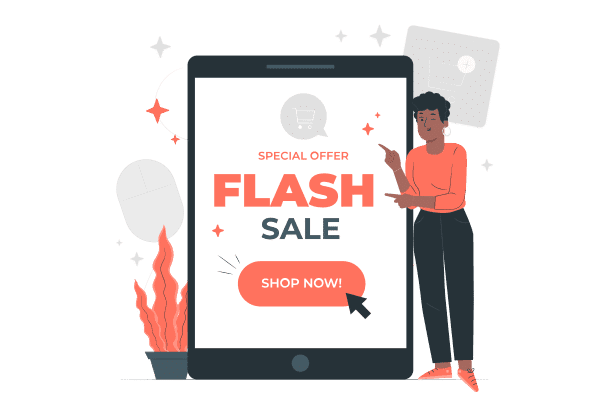 Easy to set up
When it comes to running a flash sale, WooLentor offers a powerful module that allows you to easily launch a discount with just a few clicks.
Make more sales
Implementing a flash sale on your online store is an effective way to generate a huge amount of sales in a short time period since it includes a countdown timer to ignite your store visitors' desire to redeem the offer before it expires.
Increase conversion rate
If you can conduct a flash sale efficiently while keeping a few crucial factors in mind, such as the design, starting/ending date, discount amount, and a couple of other things, then you will have a greater chance of increasing the overall conversion rate of your store.

Are you experiencing trouble making sales and searching for a way to get rid of this?
With the help of WooLentor's Flash Sale Countdown module, you can effortlessly launch a discount or promotion that looks appealing.
If you want to persuade shoppers to make a purchase, WooLentor can be an excellent choice for you.
Flash Sale Countdown Screenshots
Creating a flash sale on a WooCommerce website has never been easier.
Let's take a look at some screenshots of how a flash sale will appear on your online store.
Frequently Asked Questions (FAQ)