Choosing the right hosting provider for your WordPress website can be difficult, with numerous options available and a variety of different features to consider. Whether you're looking for security, ease of use, affordability, or simply the best bang for your buck; finding the Most Reliable WordPress Hosting Providers is no easy task. But fear not – we have compiled this comprehensive guide to provide an in-depth look into all five choices so that you can make an informed decision about which one suits your needs best.
Read on as we present our Best 5 WordPress Hosting Providers!
Benefits of WordPress Hosting
The reliable WordPress hosting providers offer a great opportunity for anyone looking to create an online presence. From increased website speed and performance to reliable security protocols, WordPress hosting offers everything you need to take your business from concept to success!
For starters, hosting typically has easy setup tools, user-friendly controls for managing your website, and increased security and backup options for your content. You'll also benefit from daily updates and performance optimization so your WordPress site is always in the best shape possible. 
With WordPress hosting, your website will stay up-to-date with the latest WordPress version, you'll be able to customize and fine-tune performance over time.
Furthermore, reliable WordPress hosting providers often offer support in case you run into any issues or want assistance with configuring the platform. You'll have everything you need to create a lasting impression on the web!
Comparison of the most Reliable WordPress Hosting Providers
With so many WordPress hosting providers to choose from, you can feel overwhelmed when it comes time to pick a host. To help narrow down the field of options and make an informed decision, we'll explore the Top 5 Reliable WordPress Hosting provider's standout features and affordability then compare them all on specific criteria such as customer service quality, scalability opportunities across various plan levels, support options available and more- giving you the full picture for confident selection.
So let's get started!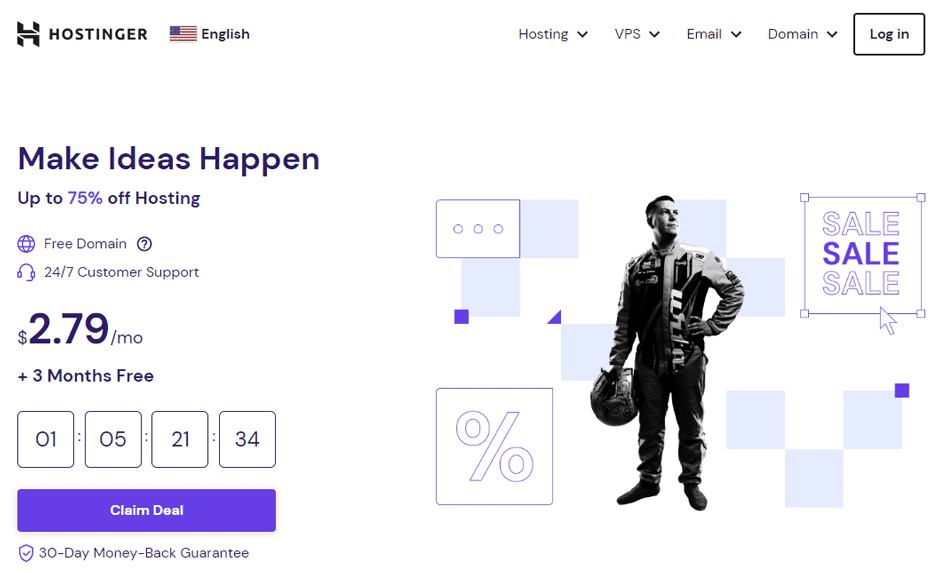 Key Features
Free Domain
Free, easy-to-use templates and builder
Seamless, high-speed performance that enables you to accomplish your tasks quickly and efficiently.
24/7 Customer Support team
Risk-free 30-day money-back guarantee
99.90% Uptime Guarantee
A reliable and competitively-priced web hosting solution, Hostinger offers a wide range of plans to suit your budget. With Hostinger, 100GB of SSD storage comes as standard in their Premium Shared Hosting plan and it's more than enough to easily manage any website content.
However, if you find yourself needing extra space on the fly then upgrade to one of the VPS or cloud hosting plans for even greater flexibility. To make sure that users have an easy experience with setting up your desired platform there is also hPanel (Hostinger's own control panel) which facilitates navigation through cleverly organized icons alongside a convenient auto installer selecting WordPress or other CMS systems can be done by simply clicking a few buttons without hassle!
Customer Support:
Experience outstanding online presence with Hostinger's 99.9% uptime guarantee and responsive 24/7 live chat support, enabling you to stay connected when it matters most!
Pricing:
Hostinger is the perfect choice for economical, dependable web hosting plans. For as low as $1.99 per month you can enjoy a range of offerings including free weekly backups and more than enough bandwidth to accommodate up to 10,000 visitors at once!
With Hostinger, you can relax knowing that your website is automatically backed up. The Premium Shared Hosting plan is the ideal choice and it's only $2.99 per month. This package allows you to create as many as 100 websites and can handle a whopping 25,000 visitors daily! Plus, don't forget the bonus: get a complimentary domain for one complete year plus an SSL certificate from Let's Encrypt at no extra cost to ensure maximum protection for your site.
12,339 customer Reviews and ratings of 4.5 out of 5!
Key Features:
Complimentary domain name with your first-year subscription!
FREE SSL certificate with every purchase!
Installing WordPress with Just One Click!
Expert Support team available 24/7.
Bluehost is renowned for its WordPress hosting, and they offer a wealth of services to make your experience even more efficient – such as their Blue Flash customer service team. They provide shared VPS and dedicated hosting options in both managed and unmanaged formats. Bluehost provides unparalleled customization for optimal performance, with in-house caching solutions that are guaranteed to work on all of your systems.
Furthermore, all plans include complimentary SSL certificates accompanied by two-factor authentication measures plus anti-spam protection – ensuring maximum security!
Customer Support:
With Bluehost, you can connect with a customer support representative via phone or chat 24/7. While they don't guarantee uptime, it claims to address any issues within 15 minutes of being reported.
170 Reviews
Pricing:
Bluehost offers unbeatable prices, starting at just $2.95 per month!
Key Features:
Free virus scanner,
Two-factor authentication provides an extra layer of security
Protect from disruptive DDoS attacks with an advanced security solution
Free SSL certificates valid for one year
NameCheap offers an impressive selection of hosting services, from VPS to reseller plans. With each plan comes added security benefits like a free virus scanner, two-factor authentication, and DDoS protection; plus SSL certificates for one year at no charge. Gain additional peace of mind knowing your website will benefit from NameCheap's reliable 99.9% uptime guarantee – ideal for businesses looking to minimize any disruption in service without sacrificing speed or budget-friendly pricing.
Customer Support:
NameCheap offers responsive 24/7 email and chat support, yet unfortunately, no phone customer service is available.
Pricing:
Finding the best pricing plans for your business can be overwhelming, but NameCheap makes it easy. Our month-to-month plans are significantly more affordable than those from other services—a monthly shared hosting plan with us only costs a mere $1.68/month, in comparison to others that charge as much as $20 each month!
Rating 4.7 out of 5
Key Features:
Built-in advanced cache and Cloudflare (CDN)
Choice of 5 cloud providers (DigitalOcean, Linode, AWS, etc.) to unlimited websites (WordPress, PHP, etc.)
Ironclad security and 1 click scaling
24/7/365 expert assistance
Cloud hosting can be complex, but CloudWays's managed WordPress and WooCommerce hosting make scaling your websites a breeze. Their Managed Web Hosting features include powerful caching with Cloudways Breeze and Cloudflare Enterprise for enhanced security.
Cloudways combine everything so that you have the best possible experience when web hosting.
For optimum performance without boundaries, an optimized stack is provided with integrated advanced caches as well as Cloudflare (CDN) capabilities to ensure rapid website growth while avoiding any unnecessary frustration along the way.
Customer Support:
With 24/7/365 expert assistance, you can tackle any issue that arises quickly and efficiently. For a more comprehensive partnership, opt for the Advanced Support add-on or the Premium Support add-on which grants access to Senior Support Engineers who are essentially part of your in-house team.
Pricing:
Expand your online presence without breaking the bank with Cloudways. With no long-term contracts, you only pay for what you use and can cancel anytime – plus get 3 days of free testing before committing to anything! Plus, packages start at just $12/month with 25 GB storage. You can try it without any risk!
Ratings 4.6 out of 5.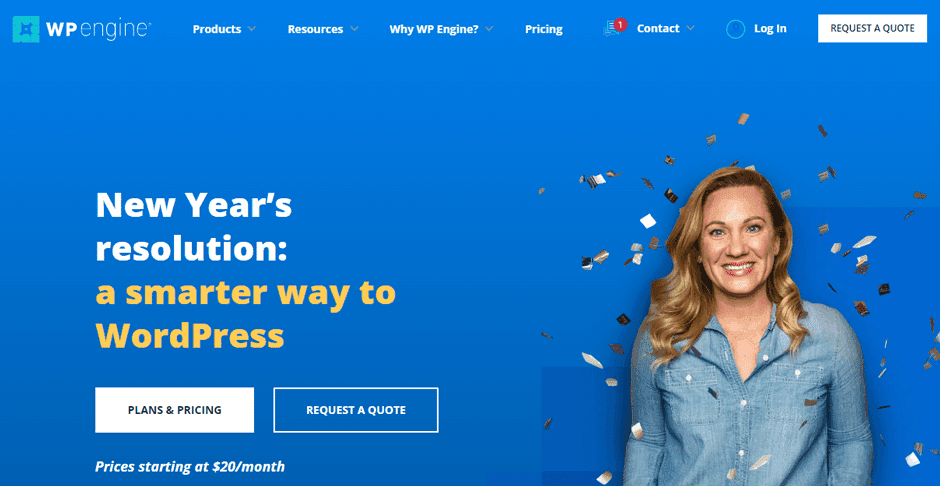 Key Features:
10 premium themes
Free SSL and SSH
Daily & on-demand backups
Faster site speed with website caching
Complementary automated migration plugin
Site content in the cloud (CDN)
When it comes to the best WordPress host, WP Engine stands out above all else. Their product is built for optimal performance and speed when hosting a WordPress website, whether you're running a blog or an online store. Of course, this quality does come with a higher price tag than shared hosting options; however, it's worth every penny was given what you get in return!
Customer Support:
Our customer support team is knowledgeable and passionate about WordPress, so you can rest assured that they are available 24/7 to help solve your queries through tracked tickets or live chat.
Pricing:
WP Engine's most affordable plan is just $20/month, allowing one 10GB website and up to 25,000 visitors each month. But if you sign up for a year of service, you get two months free – plus even better deals when signing through Quicksprout. It's true that WP Engine is pricier than other hosting services out there; however, their added features make them an unbeatable option for WordPress site owners!
WP Engine specializes in catering to WordPress users, meaning its entire system is designed specifically for that platform. You'll benefit from lightning-fast loading speeds, zero downtime, and plenty of automated maintenance tasks. Additionally, it offers expensive but value-packed plans tailored towards those running an online store with WordPress – such as premium eCommerce themes and other tools that would cost a fortune sold separately.
307 Reviews and 4.5 ratings!
FAQs
Q: What is Hosting?
A: Hosting is a type of web hosting designed specifically for the WordPress content management system (CMS). reliable WordPress Hosting providers offer specialized features such as optimized server configurations, specific security measures, and automatic updates.
Q: What are some of the best Hosting providers?
A: With so many hosting providers available, it can be difficult to determine which are the best ones. Some of the top hosting providers include WPEngine, Liquid Web, Flywheel, Bluehost, Kinsta, and SiteGround. Each provider has its own unique strengths and benefits that make them stand out from the rest. Whether it's excellent support services or advanced security features, these reliable WordPress hosting providers provide everything you need for a high-performing WordPress website.
Q: How do I set up hosting?
A: Setting up hosting has never been easier. All you need is a web host and the right software, which makes the entire process painless and quick. When you choose a website host, look for one that offers reliable customer assistance and automatic backups so your content is safe if anything goes wrong. After that, you can install WordPress software in just a few clicks – there are lots of tutorials online with step-by-step instructions to make sure everything goes smoothly. Once installed and configured, you're good to go!
Q: How much does Hosting cost?
A: The cost of Hosting can vary depending on the hosting plan and WordPress-specific features offered. Generally, Hosting plans start at around $5/month and can go up to around $50/month depending on the features included. Most reliable WordPress Hosting providers also offer discounts for longer term commitments.
Conclusion
If you're in the market for WordPress reliable hosting providers, then there is no shortage of options. It can be hard to select a web host that provides all the features and services your website needs while still being within your budget. You may choose to go with a premium WebHost like WP Engine or something cheaper like Hostinger. It's essential to know what each provider offers so you can determine which one will meet your specific requirements best.
In short, investing in WordPress hosting can free up your time to focus on content or whatever it is that makes your website unique. So don't wait – start taking advantage of WordPress hosting today!