ShopLentor is a WooCommerce Page Builder Elementor Addon. ShopLentor provides features that will help to create layouts for all the WooCommerce pages with less effort. Some of these include: WooCommerce Page Builder – Build custom Shop, Cart, Checkout, and other WooCommerce pages using the WooCommerce page builder.
The ShopLentor and WPML combination allows you to create WooCommerce multilingual websites. WPML String Translation, which enables you to translate plugin strings as well as texts not found in posts, pages, or taxonomies, is compatible with ShopLentor.
Learn how to translate ShopLentor plugin strings using WPML by reading this documentation.
Why WPML String Translation is used?
WPML String Translation for ShopLentor allows you to translate texts that are not in posts, pages, and taxonomy. This includes the site's tagline, general texts in admin screens, widget titles, and many other texts.
How to do string translation using WPML #
To create WPML multilingual content and enable ShopLentor WooCommerce multilingual support, you must have these plugins installed on your WordPress website:
WooCommerce Multilingual & Multicurrency
WPML Multilingual CMS
WPML String Translation
Additionally, you install the WooCommerce, ShopLentor, and ShopLentor Pro plugins.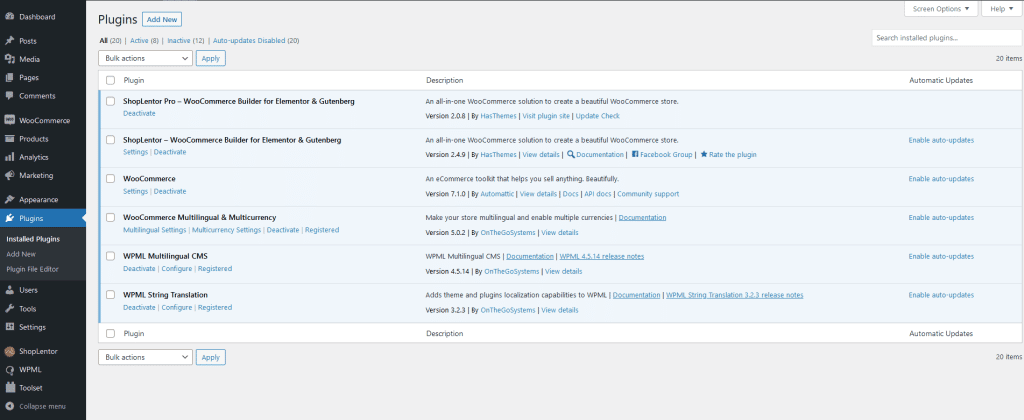 How to Translate WPML String Translation for ShopLentor Plugin #
WPML searches the plugin for strings and translates them. ShopLentor plugins (Free and Pro) for sting translation must be added.
Navigate to WPML > Theme and plugin localization from your WordPress dashboard.
Under the Strings in the plugins, find ShopLentor and ShopLentor Pro plugins.
Tick the checkboxes for ShopLentor and ShopLentor Pro.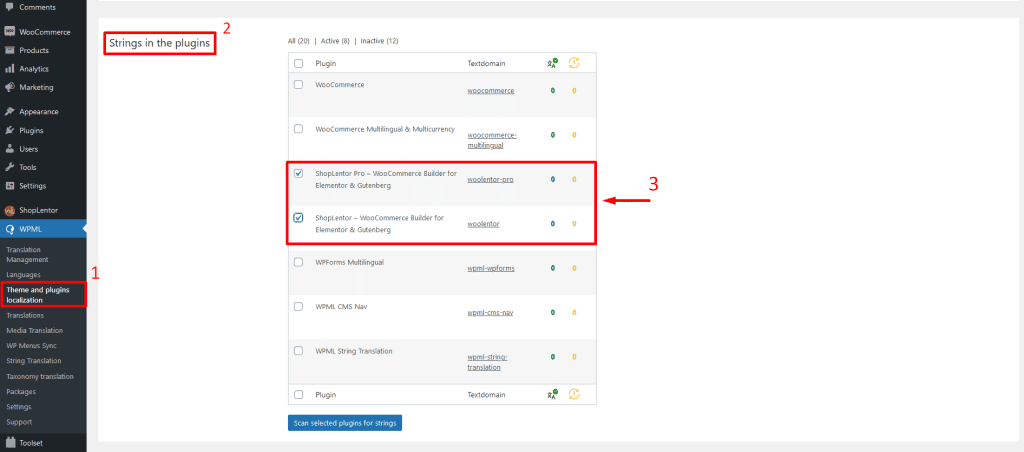 4. After that, click on Scan selected plugins for strings button to start scanning the ShopLentor plugins for strings.
It will take a while to scan the plugins. When the scanning is finished, you will see the following scan results:
Step 2: Translate strings of ShopLentor plugins #
The ShopLentor is being translated.
Navigate to WPML > String Translation from the WordPress dashboard.
You can add translations for each string on the String Translation page. Under the language flag, select "+." The translation can then be added to the field that is necessary.